Any Opportunity to Any Stage
Automatically move all of a contact's opportunities, or any opportunity selected through filters, restrictions, and ordering, to a specified stage.
How to use it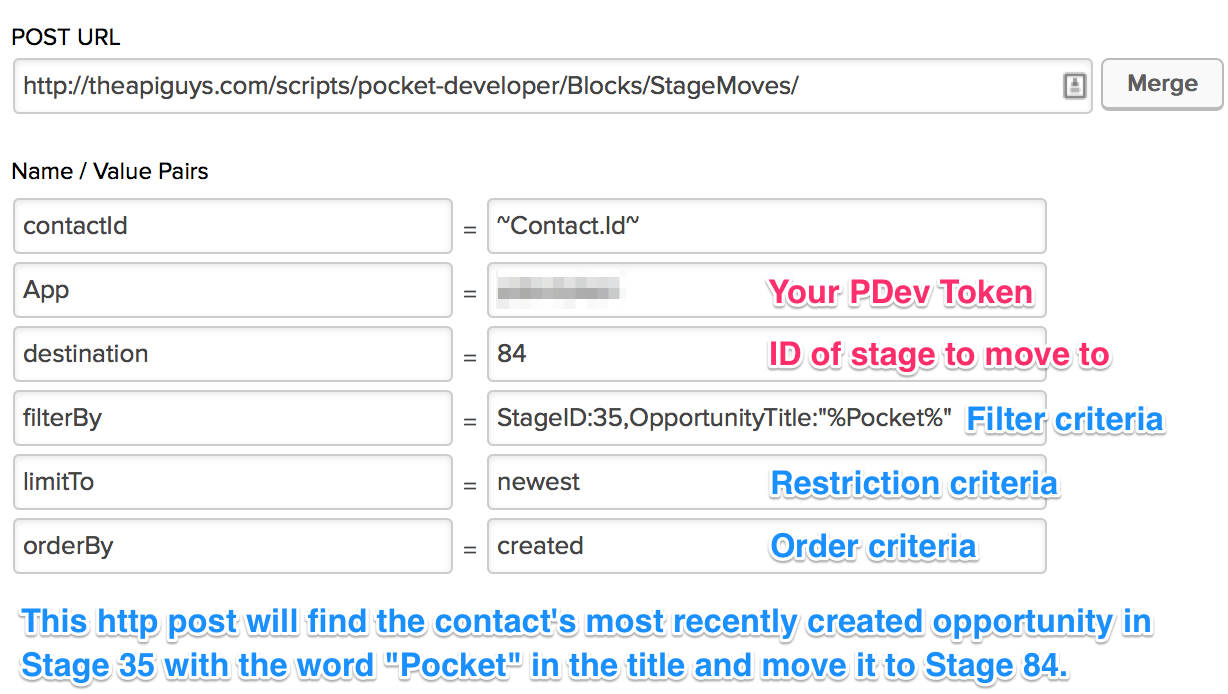 Post URL
http://theapiguys.com/scripts/pocket-developer/Blocks/StageMoves/
Required Parameters
destination

The destination StageID for all opportunities found for the specified contact record
All opportunities found will be set to this specified destination StageID. Add optional parameters to limit the search to specific opportunities (recommended).
Optional Parameters
filterBy

Filter by any field in an Opportunity, as follows:

For a number or ID field -> StageID:32
For a text field -> OpportunityTitle:"My Text" or OpportunityTitle:"My Text%" or OpportunityTitle:"%My Text%"
For a date field -> NextActionDate:"200409%"
Filters can be combined to further narrow down a contact's opportunities.

Note:

Use % as a wildcard in searches.
Examples:

StageID:3 will only return opportunities currently at stage #3
StageID:3,AffiliateID:4 will only return opportunities at stage #3 that were referred by affiliate #4
AffiliateID:4,UserID:5 will return opportunities at any stage that originated from affiliate #4 and has been assigned to owner #5
StageID:3,AffiliateID:4,UserID:5 will return opportunities at stage #3 that originated from affiliate #4 and has been assigned to owner #5
StageID:3,AffiliateID:4,UserID:5,OpportunityTitle:"%Pocket Developer%" will return opportunities at stage #3 that originated from affiliate #4, assigned to owner #5 that has "Pocket Developer" in the title

limitTo

Opportunity filterBy results can be limited by using the values of 'oldest'/'first' or 'newest'/'last' to limit the result to a single opportunity.

orderBy

Used in combination with 'limitTo,' this parameter allows you to order the resulting opportunity lookup by the values 'created' or 'updated'. (Default ordering is by last updated timestamp.)